Hello, I'm MusiCommentator, and while I always censor the obscene words I use on this site, I better put an NSFW warning here just because the nature of this subject matter might call for it.
"F*ck"!  It's a word that has been around for centuries.  Seen in movies, games, and especially real life, this dangerous word has made its rounds, being associated with all kinds of emotions and acts.  It is one of the most versatile words in the English language, and music does not shy away from its usage.  With hip-hop being the most popular genre of music at the time this post is being published, it is a word that is very easy to find in many popular songs.  However, some songs use the word as such a central piece of its themes that it gets its own spot in the title of the track.  This can be a risky move for the artist because it might shoot the song's chances of reaching fame.  But, it can also be a golden move, as the quality of a song not afraid to show its true colors can be superb.  So, I decided to make a list with my top 5 favorite songs containing the word "f*ck" in the title.
Qualifications:
This list will be set up as all my previous top 5s have been set up (review 5-2, give honorable mentions, then reveal the big boy at #1).  To qualify for the list, the song must have the word "f*ck" in the title.  It can be any variation of the word, such as "f*cking", "f*cker", etc., but it must contain the root word "f*ck".  For example, Eminem's "Fack" could not make the list because the title does not technically contain the word f*ck (like that song would ever make a "top 5 best" list anyways).  Also, it cannot be an acronym; the word has to be in the title in its full form.  Another example, JAY Z's "F.U.T.W." could not qualify because, while the "F" in the title stands for "f*ck", the whole word is not in the title.  Now, let's f*cking do this!
The List:
#5: F*ck Ugly God (by Ugly God)
In an age where even YouTubers are making diss tracks against one another, Ugly God throws his hat in the ring and makes his own diss track…against himself.  I mentioned this track briefly when discussing him in my 2017 XXL Freshman Class RANKED post, but I think I should give it more time here.  Only a rapper like Ugly God would degrade himself so much in a song and flippantly give away embarrassing information about his past, but that's what makes this song so funny.  He goes into great detail on this song, by dissing himself with lines like "Your networth say you got a million, but your ass don't", "Four years ago, you got jumped on Halloween", and "Back in eighth grade, you use to borrow n*ggas' clothes".  The beat matches his common style, and the repetitive "F*ck Ugly God" chant would be fun to sing along to if I was not laughing so hard at the lyrics in the verses.  Obviously, this song is not as serious as some of the others on this list will be, but I think it's good we start off with a little laugh.
#4: F*ck Da World (by Ace Hood)
While I never listened to Ace Hood's music that much, I always saw him as a severely underrated artist.  He used energetic trap beats to compliment his quick and aggressive flows.  On this track, though, he disregards his usual brag raps to address the social injustices his community faces.  He brings up sad images such as praying for children that died unjustly, losing his grandmother to cancer, and mourning his friend that had been shot.  He uses these events in an attempt to show the crooked nature of the government and how the slums and ghettos of America are basically ignored.  And while I don't agree with his gripe about the government not supporting Christianity (First Amendment rights, baby!) the fact that he is suggesting things that might help is a major improvement over a lot of anti-government songs.  The beat on this, too, is phenomenal, with the sorrowful bells building suspense in every one of his words.  This is definitely one of Ace Hood's best tracks.
#3: F*ckin' Problems (by A$AP Rocky, featuring Drake, 2 Chainz, and Kendrick Lamar)
Right when you hear the Aaliyah sample at the start of this track, you know you are in for a treat.  On this track, A$AP Rocky recruits three massively popular rappers to spit some hot brag raps, mainly centered around getting a lot of women.  I have not always been fond of brag raps on this blog, but this song does it right.  Along with 2 Chainz giving an infectiously catchy chorus, each rapper has their own great punchlines that add great flavor to the track.  Rocky's line "They say money make a n*gga act n*gga-ish/But least a n*gga n*gga-rich" flips the derogatory term into a compliment for himself and acts as the highlight of his verse.  Drake gives the best guest verse of his entire career on this song, with a flow that restricts him to breathing only three times throughout his entire section.  Plus, he provides us with some pleasantly assh*le-ish lyrics like "Make me think about all of the rappers I've been feedin' on/Got a feelin' that's the same dudes that we speakin' on" and "I will pay to make it bigger, I don't pay for no reduction".  And of course, who could forget about Kung-Fu Kenny!  He might not be good on all his features (if you need proof, look up Maroon 5's "Don't Wanna Know"), but he's a welcome addition to this track, as his lyrics "My pep talk turn into a pep rally" and "Girl, I'm Kendrick Lamar/A.K.A. Benz is to me just a car" have some great braggadocio that makes this a worthy last verse to the track.  I predict that this song will be a classic in the future, and if it is not, it is always be a good banger in my book.
#2: F*ckwithmeyouknowigotit (by JAY Z, featuring Rick Ross)
(Anyone who knows JAY Z's music knows that he is very protective of it, so I was not able to get a good link for this song.  Sorry.  Listen to it on iTunes, I guess.)
If I was able to redo my Top 5 Best Trap Bangers Of All Time list, this song would absolutely be added on!  Most people know this song for Rick Ross' infamous line "Reeboks on, I just do it" (wrong slogan, bud), but I see this song as a lot more than that.  Starting off with a speech from Pimp C before his death, this song is the ultimate brag rap track about living like kings.  Rick Ross's verse is very basic, but his voice fits perfectly for the hook.  He has the right inflection and tone to make it sound like he should not be f*cked with.  JAY Z's verse, while not one of his greatests either, fits pristinely in this song.  His faster flow makes him stand out more than Ross, and his references to many Latin and Spanish terms flaunt his king-like qualities in a fancy way.  The beat is the best part of this song, as it makes anyone want to get turnt up to it.  If you want any kind of motivation to make you think you are ruler of the world, just listen to this song and you'll be there.
Before I get to the number one song on this list, let me give to you my…
Honorable Mentions (in no specific order)
I Don't F*ck With You (by Big Sean, featuring E-40)
Acting as Big Sean's biggest hit to date, this track has him and E-40 reflecting on bad relationships and saying "f*ck you" to their exes.  This works as a great song to get over a breakup.  I originally put this on the list, but it was beaten out by "F*ck Da World".  Sorry, Sean.
You Don't Know (For F*ck's Sake) (by Ed Sheeran and Yelawolf)
This song has Ed and Yela trading flows and dominating the game over an alternative rap beat.  There are many witty lines in this song, my favorite being "Pulling out early, and they still come" (the "come" can have a double meaning in this case).  But, the other songs were more impactful to me, so this did not make the cut.
Just/Still Don't Give A F*ck (by Eminem)
These were some of the first songs Eminem gave us as his alternate persona Slim Shady, and they embody the character of Slim very well.  The songs' titles represent what the songs are about pretty well.  I probably like "Still Don't Give A F*ck" a little better than "Just Don't Give A F*ck", but both just missed the mark to making the list.
Now, it's time to reveal what the best song with the word f*ck in the title is, which is…
#1: F*ck Tha Police (by N.W.A.)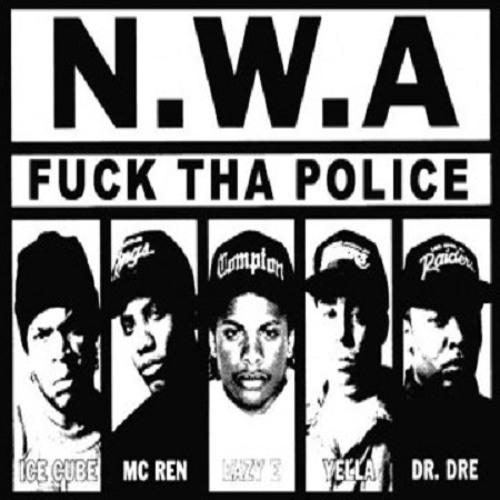 I'm pretty sure all the hip-hop heads that read this blog saw this one coming.  I'm not into a lot of the cop hating that is prevalent in the media these days, but that does not stop my enjoyment of this song.  N.W.A. is able to make a strong social commentary while also keeping their gangsta personas in tact on this song, which is quite an accomplishment.  The group is able to comment on the unfair treatment blacks get in the police system by setting up skits in between the verses and the choruses, and their verses help display these points as well.  Lyrics like "A young n*gga got it bad 'cause I'm brown/And not the other color, so police think/They have the authority to kill a minority" and "But they're scared of a n*gga, so they mace me to blind me" bring these points to fruition.  Really, from almost all levels, this track is an amazing one, and certainly a hip-hop classic.  That is why this is my favorite song with the word "f*ck" in the title.
NOTE: Before, I close this list out, I just want to alert my readers that I might have to take a couple weeks off because I have a lot of things I have to attend to in a very short timeframe, so do not fret if you do not see a new post from me for a couple weeks.  I will be back when summer hits, or sooner.
Thank you for reading my "Top 5 best songs with the f-word in the title" list (that was long to type out). If you liked this list, make sure to follow my website, Twitter, and Instagram, like this post, and be sure to check in to read my future content. Also, if you have something you want to see me review, tell me in the comments. Until then, keep on listening to good music! I know I will.